On a day when 'Bideford Remembered' it was fitting that our U10s remembered all the hard work Mark & the team had been coaching them with an impressive performance against our Cornish (friendly) rivals as we lined up against Launceston. For any other day of the year, I know for a fact our boys and girls would struggle to be quiet for two minutes, but today our squad stood and observed the silence impeccably as we did our bit.
Looking the part in our brand new shirts, Head Coach Mark was looking for a bit more structure from the team, and gave some players a bit of positional responsibility to encourage some phased play. Harry P was designated scrum half and got the ball moving well all morning so the runners could do their bit. Will Slee ran the game from outside 5/8 with a strong passing game, and impressive use of his genetically inherited 'show & go' allowed him to make good progress down the blind side.
Whilst Launceston started with some good running rugby, it was Bide's strong defence that kept them out and allowed us to counter attack. Oliver Bloodworth benefited from this and ran in several scores from deep. Throughout the game, Freddy, Alice and Jacob ran with real purpose, hitting the line with pace. This allowed the ever patient Matthew to run in some cracking scores when the ball came out wide.
To their credit, Launceston ran back strongly but some robust defending from Will Harris, Cole and Jack kept the visitors out.
Before I mention the real highlight, the final play of the match is something worthy of a mention….as our opponents were looking odds on to score, some defensive pressure forced the turnover. The whole team went in to auto pilot and went though their phases. The passes went to hand, the running was strong and straight, everyone linked up and resulted in us working our way up the pitch to score a cracking team try.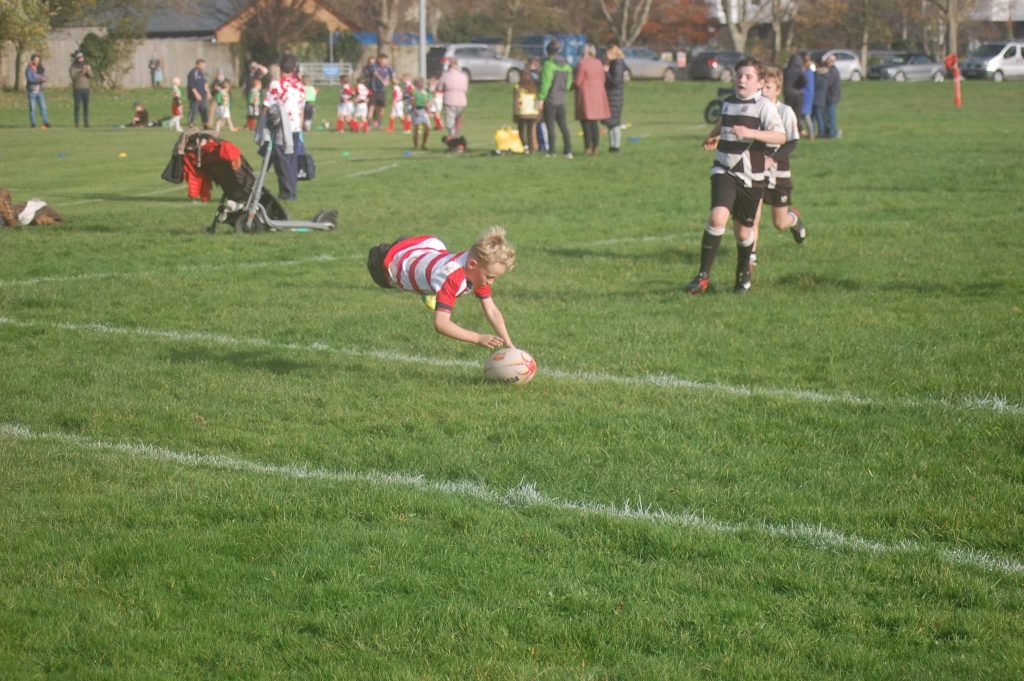 All in all, a very good day where everyone did what was required of them and more – the few lines in this report don't really do justice to how each player contributed today and the skill level shown.
And as promised, the real highlight…..sausage and chips back on the menu!
Thanks to Launceston for travelling, we look forward to seeing you later in the season.
And thanks to those that weren't playing today who came down and supported your team mate